<! -- ========================== GROUP NAME ========================== ->
links
<! -- ========================== GROUP PEOPLE ========================== -> <! -- ========================== GROUP PAGES/TABS ========================== ->
Personal Mobile Hub - Secure PDA
<! -- ========================== PAGE CONTENT ========================== ->
Secure PDA
IBM and Consumer Direct Link (CDL) also built a secure PDA in 2002 leveraging the learnings from the Linux Watch project. The device functions of a PDA, Bluetooth wireless access, cellular telephone, and biometric fingerprint recognition, along with a security-oriented hardware/software architecture making it the world's first handheld wireless device with built-in biometric user authentication.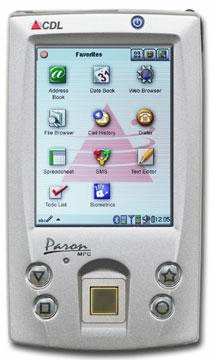 Hardware:
206MHz Intel SA-1110 StrongARM system-on-chip processor
Memory: 32MB or 64MB RAM; 32MB Flash
16-Bit color, 320×240 pixel LCD with backlight
RS232 serial port
USB port, configurable as either 'host' or 'client' device
Bluetooth wireless LAN
GSM/GPRS cellular communication
Biometric fingerprint sensor
Size: 5.4 x 3.1 x 0.8 in.
Weight: 8.8 oz.
Software:
Linux operating system (2.4.x kernel)
GUI environment and PDA app suite based on Trolltech Qtopia and Opera browser
IPSec VPN protocol & security algorithms
IBM DB2E database and Websphere software
Power management to extend battery life