<! -- ========================== GROUP NAME ========================== ->
links
<! -- ========================== GROUP PEOPLE ========================== ->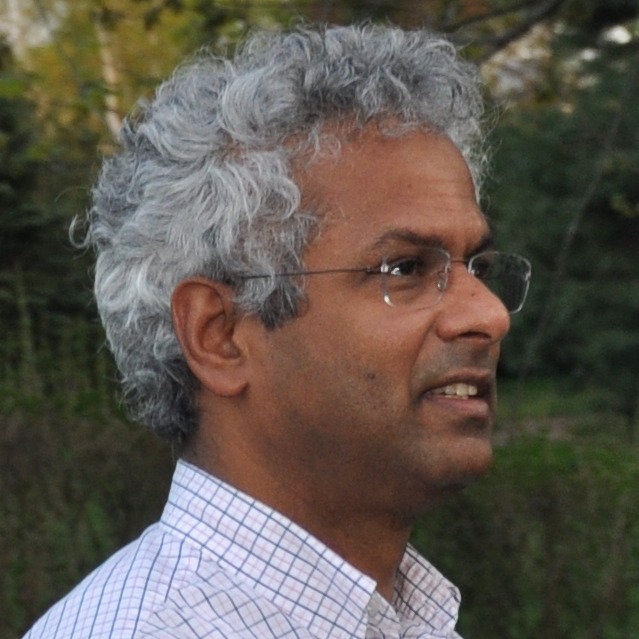 <! -- ========================== GROUP PAGES/TABS ========================== ->
Linux Watch - WatchPad Apps
<! -- ========================== PAGE CONTENT ========================== ->
Some of the applications we widely demonstrated publicly are captured below (this is not an exhaustive list).
WatchPad Applications/Prototypes
| | |
| --- | --- |
| Personal Info Mgmt | Gesture recognition, Handwriting input |
| Controller for other devices | Mobile Web Services |
| Limited function WML browser | Symbiosis with other devices (Everywhere Display) |
| Lynx browser | SIP User-agent |
| Viewer for a GPS in backpack | Mobile Payments |
| Password Vault | |
WatchPad System Software and tools
| | |
| --- | --- |
| Power measurement and minimization | Code minimization - uclibc |
| Advanced networking (Mobile IPv6, Bluetooth, PPP) | db2e (embedded edition) |
| http server | gcc, perl, NFS, run on testbench |
| Low power Linux Kernel | X11 R6 and Tcl/Tk graphics |
| Security protocols - SSL | |
Initial Suggested WatchPad Apps - IBM Research Report RC22057
What Would You Do with a Hundred MIPS on Your Wrist? Chandra Narayanaswami, Mandayam Raghunath, Noboru Kamijoh, Tadanobu Inoue (2001). IBM Research Report RC22057, January 2001.
The card below shows an early list of potential applications for a networked wrist watch computer from 1999-2000. Basic personal information and time management, photo browsing, remote control functions came first. This list grew to more complex applications during the course of the WatchPad project. For example, fingerprint based authentication to the Watch and Text to Speech and Voice to Text engines were also demonstrated on WatchPad 1.5 in 2002. Mobile Web Services, mobile payments, and health monitoring via a hub were others that followed.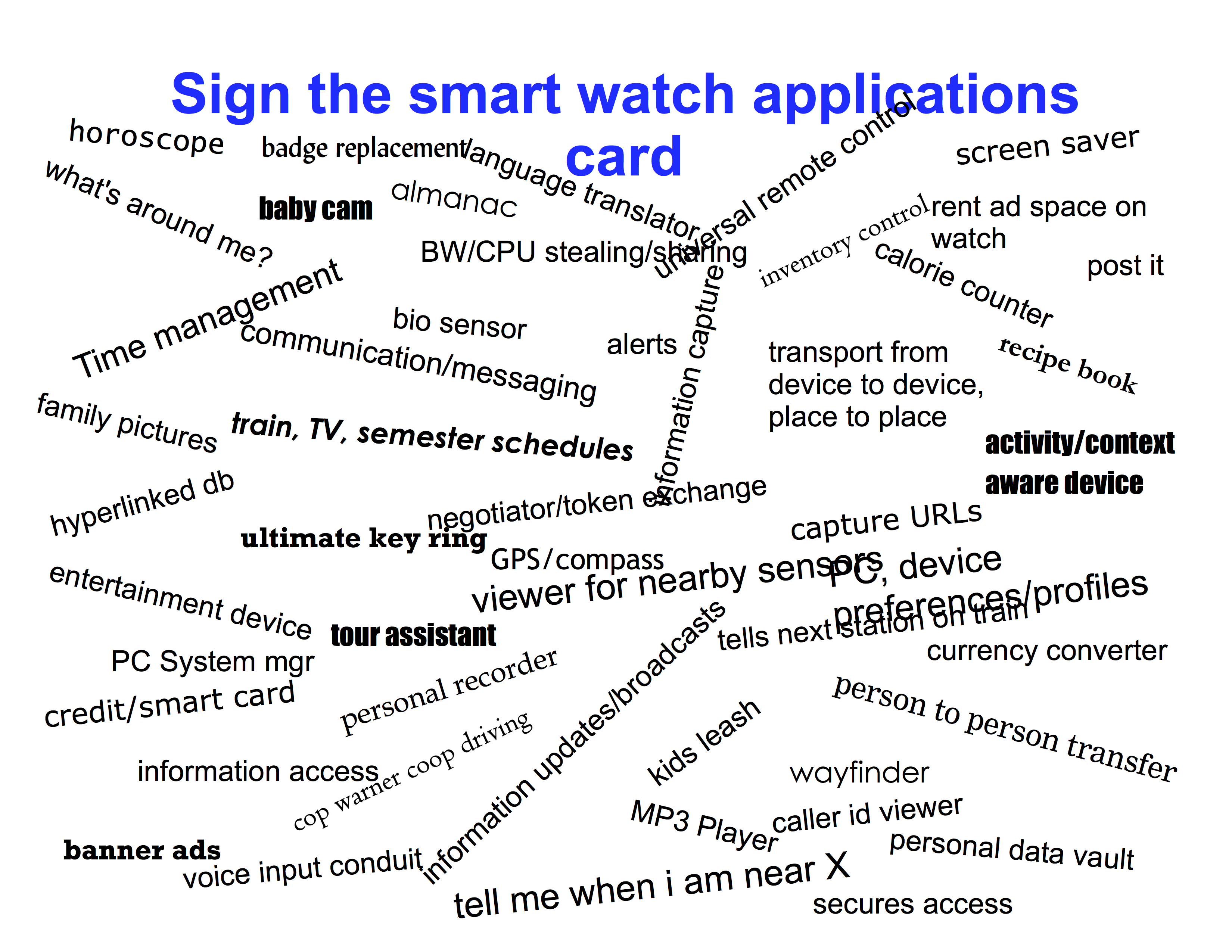 Password Vaults - 2005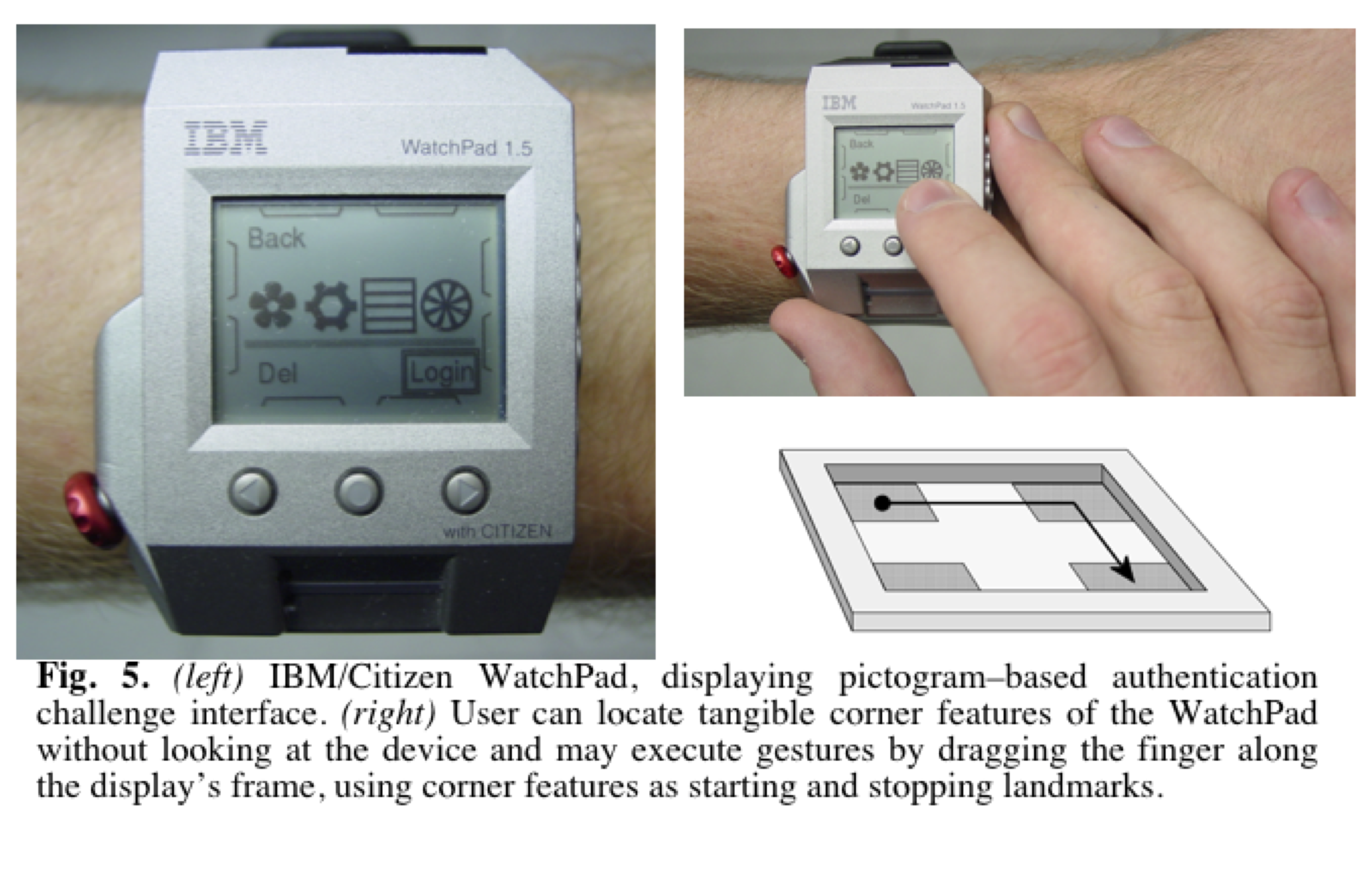 String Based User Interfaces - 2005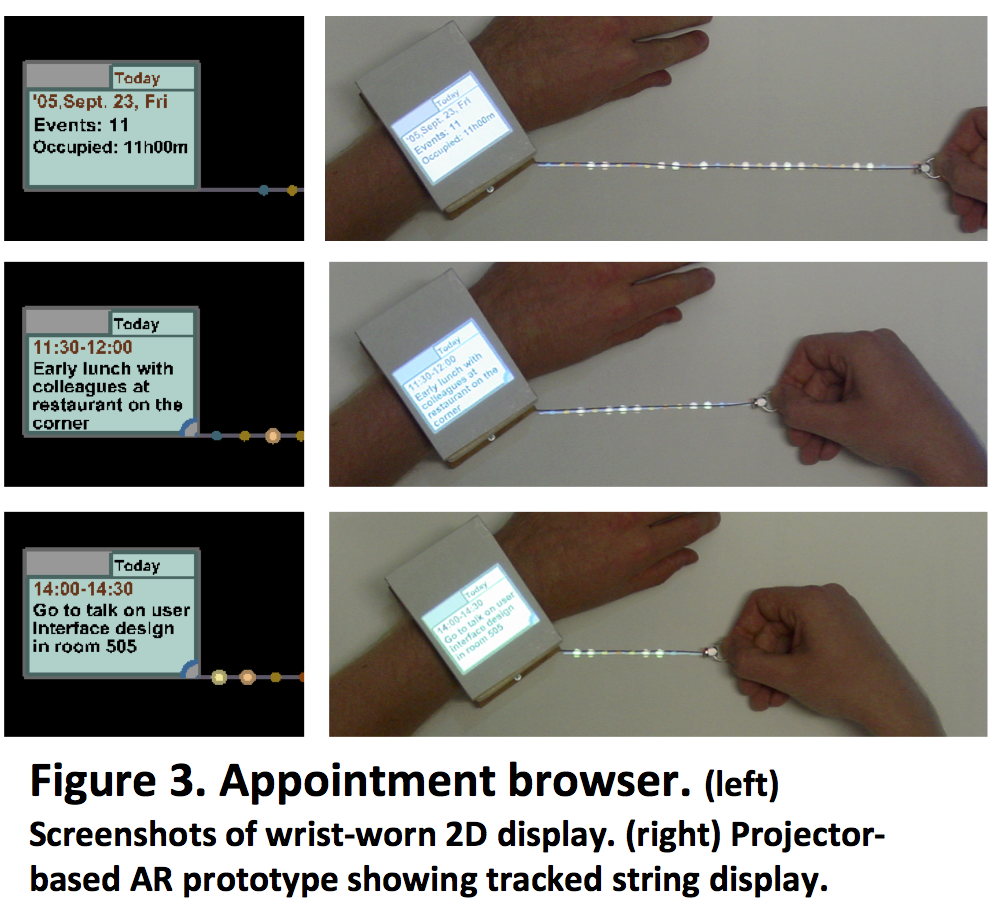 Session Initiation Protocol (SIP) - 2004
The Session Initiation Protocol (SIP) has been widely adopted for Instant Messaging (IM) and VoIP telephony both by the enterprise and in service provider systems. Till now, SIP functionality has been accessible to end users primarily via computing platforms such as an IM client on a laptop or on communication platforms such as an IP Phone or a cell phone. We show that wearable devices such as the IBM Linux Watch (WatchPadTM) can play a powerful role as a control device in a SIP infrastructure, given their easily accessible, always available, and visible user-interfaces. We have designed and prototyped several key control applications, using a SIP User Agent on the WatchPad, such as the ability to initiate and route incoming and outgoing phone calls, receive simple queries as Instant Messages, and call initiation based on address books residing on wearable devices.
An interesting feature of SIP is the ability to separate the control and media portions of a connection. In fact, they may take place at different devices. Thus SIP allows a level of indirection and late binding of the media device. This is a powerful concept and has the potential to do for communications what pointers did for programming by separating data from addresses and virtual memory did for large programs by creating virtual addresses to overcome limits of real addresses. Since the ability to exercise control places very few requirements on end devices, it is possible to make wearable devices with a TCP/IP stack part of the SIP infrastructure. We argue that wearable computers are ideally suited for setting up sessions because of their availability and ability to get the user's attention in varied situations. Wearable computers also contain information that can be used to personalize and improve the user experience. Similarly stationary devices are better suited to play the media because they have fewer constraints in terms of power, size, networking, etc. The above balance is unlikely to change because it is based on human behavior patterns and basic physics. Our investigation and implementation shows that wearable devices can plug an important gap and significantly enhance user experience. Power can be saved on mobile devices by transferring calls to stationary wired devices.
The WatchPad behaves as a control point for all user communications. Examples that we have implemented include
1) Initiate phone calls between stationary devices. 2) Transfer an incoming phone call to a nearby stationary device. 3) Transfer an ongoing phone call from a stationary device on to a mobile device.
The WatchPad does not handle media Media is handled by an infrastructure device, such as a desktop phone. The figures below shows the WatchPad setting up a call between two stationary phones and then transferring the call to the user's mobile phone.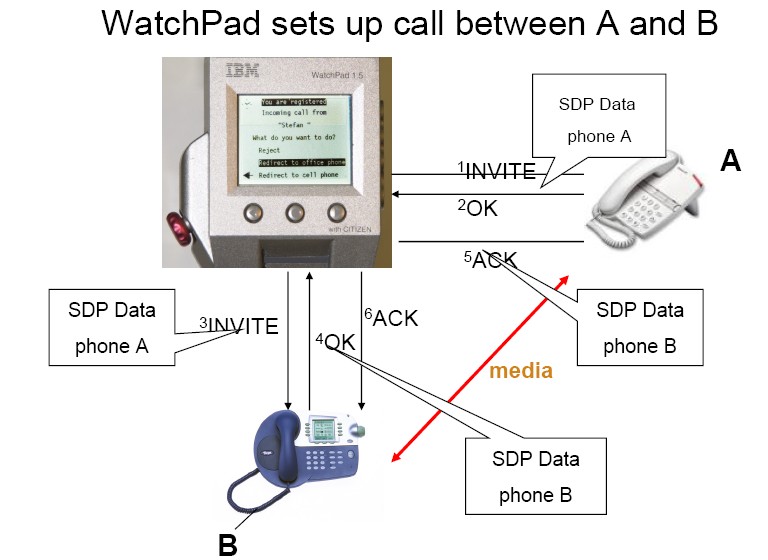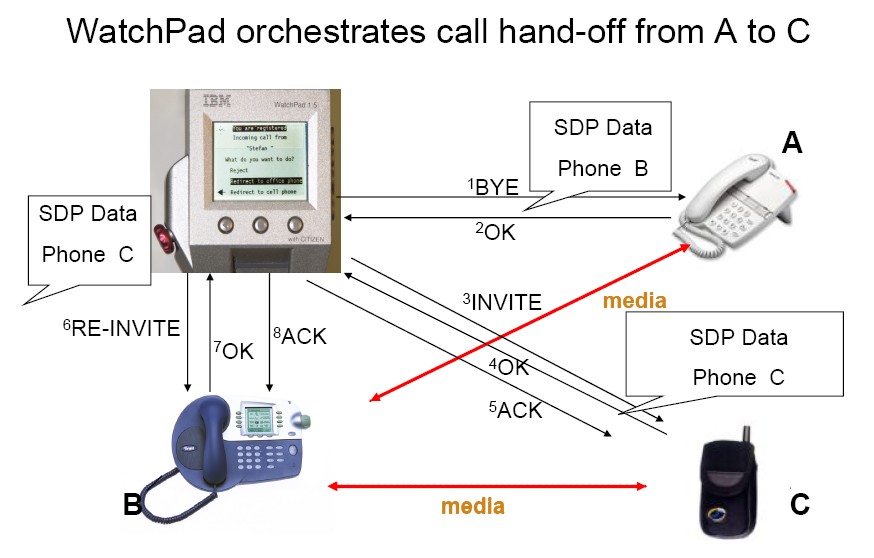 More details can be found in
Unleashing the power of wearable devices in a SIP infrastructure, Arup Acharya, Stefan Berger, Chandra Narayanaswami, Proc of IEEE PerCom 2005, pp. 159-168. Extended version invited for publication in Elsevier Pervasive and Mobile Computing Journal.
Mobile Web Services - 2003
The Mobile Web Services project investigates the issues that arise in hosting web services on pervasive and mobile devices. We believe that by hosting services on portable devices - the devices can interoperate without human intervention and derive the benefits similar in flavor to the ones that web services are delivering in the B2B commerce space. Issues specific to mobile devices include service registry, intermittent connectivity, device disambiguation, power consumption, etc.
In this demo the Linux Watch offers wallet services. In our scenario a shopper can pay for his purchases at a checkout kiosk from his electronic wallet instead of a traditional wallet. The checkout kiosk is used to present the user interface for the web service hosted on the watch. The user can confirm the payment by responding to queries sent to the watch. The communication between the kiosk and the watch uses SSL for security.
The demo is now hosted by the IBM Industry Solutions Lab in Hawthorne.
In other demonstrations, we have used IPsec as a security mechanism between the watch and other pervasive devices.
More details can be found in the following publication.
Web Services on Mobile Devices - Implementation and Experience, Stefan Berger, Scott McFaddin, Chandra Narayanaswami, Mandayam Raghunath, Proceedings of the Fifth IEEE Workshop on Mobile Computing Systems & Applications 2003, pp. 100-109.