<! -- ========================== GROUP NAME ========================== ->
links
<! -- ========================== GROUP PEOPLE ========================== -> <! -- ========================== GROUP PAGES/TABS ========================== ->
Center for Computational Health - overview
<! -- ========================== PAGE CONTENT ========================== ->
Research at the Interface of Data Science and Health
We pursue research in the application of data science to healthcare across the entire continuum from the health of individuals, to that of populations, to the healthcare system itself.
Healthcare is in the midst of dramatic changes on many levels, driven in no small part by the expanding role of data in achieving a deeper understanding of disease, behavior and the interaction of complex systems. New types of data, such as genomic and sensor data, combined with the increasing electronic availability of traditional health data, are having a major impact on conceptual models of how disease is diagnosed and treated.
The Center for Computational Health at IBM Research consists of a multi-disciplinary team of researchers with expertise in machine learning, data mining, visual analytics, biomedical & medical informatics, statistics, behavioral and decision sciences, and medicine. We work on developing cutting-edge methodologies to derive insights from diverse sources of health data, to support use cases in personalized care delivery and management, real world evidence, health behavior modeling, cognitive health decision support, and translational informatics.
Director: Jianying Hu
Team Locations:
IBM T.J. Watson Research Center, Yorktown Heights, New York
IBM Research Cambridge, Cambridge, Massachusetts
---
Research Areas
Patient Similarity Analytics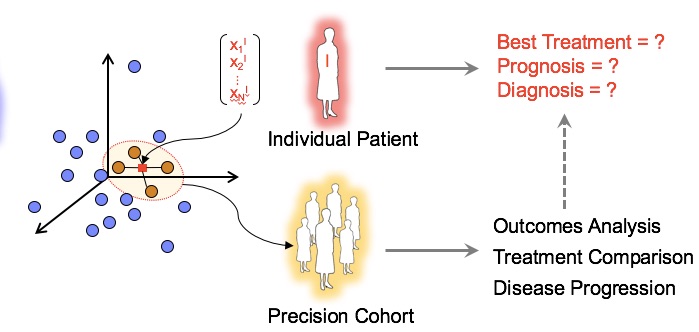 Incorporating diverse patient attributes to develop similarity analytics by applying advanced machine learning methods to identify precision cohorts, combined with modeling methodologies for personalized predictive models capable of identifying patient level rankings of risk factors, leading to more targeted and actionable insights.
Predictive Modeling

Advanced machine learning approaches to address challenges in developing effective and efficient predictive models from observational healthcare data in different use cases. Examples include matrix based methods to address sparsity, feature engineering (i.e., temporal pattern mining, factor analysis), feature selection, scalable predictive modeling platform, personalized predictive modeling leveraging precision cohorts, and multi-task learning for comprehensive risk assessment.
Disease Progression Modeling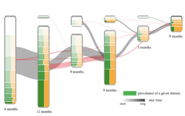 Understanding disease onset, characteristics of disease stages, rate of progression from asymptomatic to symptomatic disease, from earlier to more severe stages, and factors that influence disease progression pathways.
Translational Informatics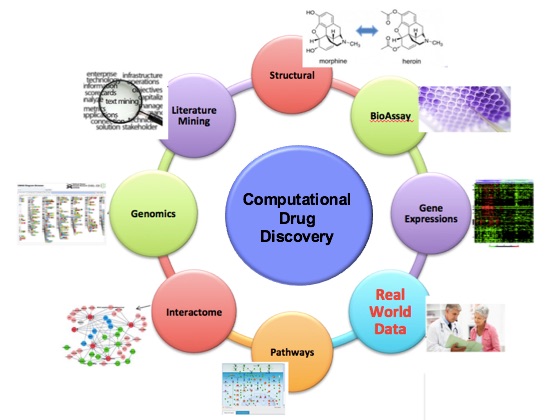 Drug Similarity Analytics combined with advanced machine learning methods such as joint matrix factorization can help pharmaceutical researchers quickly identify drugs that have similar characteristics to target drugs, supporting three distinct, but equally important use-cases: Drug Safety, Drug Repositioning and Personalized Medicine.
Visual Analytics and Cognitive Decision Support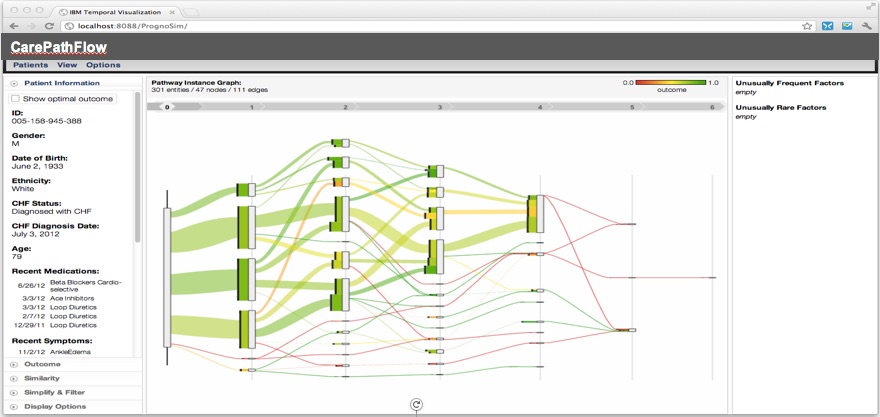 Innovative visual analytics platform and user interfaces that accelerate the process of exploring and mining data to derive new insights that can be translated into more effective therapeutics and processes.
Contextual & Behavioral Modeling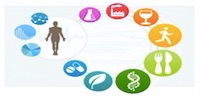 Combining real-time data from wearable devices, self-reported activity and clinical data, allows us to model behavior for both prediction and personalized wellness and fitness strategies customized to an individual's unique needs.
---
Selected Recent Highlights
Press coverage on our collaboration with Broad on polygenic risk prediction, 8/2020
Venturebeat: https://venturebeat.com/2020/08/20/ibm-uses-ai-to-evaluate-risk-of-developing-genetic-diseases/
Press coverage on our collaboration with MJFF on Parkinson's Disease Progression modeling, 8/2020
Digital trends: https://www.digitaltrends.com/news/ibm-michael-j-fox-parkinsons/
Techrepublic: https://www.techrepublic.com/article/ai-and-machine-learning-facilitate-pioneering-research-on-parkinsons/
Venturebeat: https://venturebeat.com/2020/08/06/ibm-details-research-on-ai-to-measure-parkinsons-disease-progression/
ZDnet: https://www.zdnet.com/article/ibm-and-michael-j-fox-foundation-develop-machine-learning-model-for-parkinsons/
CNOC - Computational Neuroscience Outcomes Center Symposium - The Future of Data (Neuro)Science, 10/9/2019, Boston, MA
Keynote Address: Computational Approaches for Disease Progression Modelling of Neurological Disorders
Presenter Jianying Hu
https://projects.iq.harvard.edu/cnoc-symposium/program

AMIA 2018 - 11/3-7/2018, San Francisco, CA
Distinguished Paper Award:
A Real World Evidence Approach of Care Plan Personalization based on Differential Patient Behavior Responses in Care Management Records.
Pei-Yun Sabrina Hsueh, Subhro Das, Chandramouli Maduri (all IBM Research) and Karie Kelly (IBM Watson Health).
Presenter: Pei-Yun Sabrina Hsueh
https://symposium2018.zerista.com/event/member?item_id=8295850
Current Challenges in Computing (CCubed Conference Series), September 9-11, 2018, Napa, CA
Invited Plenary Talk
Presenter Jianying Hu
https://ccubedconference.com/speakers.html
Helmsley/JDRF Big Data in T1D Workshop, August 15-16, 2018, Reston, VA
Invited Talk: T1D Disease Modeling
Presenter: Kenney Ng
https://www.closeconcerns.com/knowledgebase/r/69c701b9?utm_source=Closer+Look+Subscribers+2018&utm_campaign=a39abc0fe5-2018-08-15_%28HTML_LINKS%29_--_JDRF%2FHCT_Day08_15_2018&utm_medium=email&utm_term=0_c55d924bf1-a39abc0fe5-411992813
NIH Workshop: Harnessing Artificial Intelligence and Machine Learning to Advance Biomedical Research, July 23, 2018, Bethesda, MD
Invited Talk: AI for Healthcare Research – Next Generation Healthcare
Presenter: Eileen Koski
https://datascience.nih.gov/community/2018biomedAI
International Chinese Statistical Association Applied Statistics Symposium, June 14-17, 2018, New Brunswick, NJ.
Invited Talk: Disease Progression Modeling with Large-Scale Observational Data.
Presenter: Zhaonan Sun
http://www.icsa.org/icsa_login/symposium2018/ICSA%202018_files/abstractsBook.pdf
Digital Diabetes Congress 2018, May 22-23, 2018, San Francisco, CA
Keynote: Artificial Intelligence and Digital Health
Presenter: Jianying Hu
https://www.diabetestechnology.org/ddc/
First Enroll-HD Congress, May 20-22, 2018, Quebec City, Quebec, Canada.
Panel Presentation: Understanding Huntington's Disease Progression: A Probabilistic Modeling Approach.
Presenter: Zhaonan Sun
https://www.enroll-hd.org/wp-content/uploads/2018/05/Enroll-HDCongressProgramBook.pdf
AI for Social Good Session of Global Good – Gates Foundation Learning Session, May 9, 2018, Bellevue, WA
Invited Presenter: Daby Sow
AMIA 2017 - 11/3-8/2017, Washington, D.C.
Distinguished Paper Nomination:
StressHacker: Towards Practical Stress Monitoring in the Wild with Smartwatches.
Authors: Tian Hao, Kimberly Walter, Marion Ball, Hung-yang Chang, Si Sun, XinXin Zhu
https://amia2017.zerista.com/event/member/389349
11/17 - New York Academy of Sciences Highlights the work of CCH Researcher Subhro Das:
https://www.nyas.org/magazines/imagining-the-next-100-years/i-imagine-how-technology-will-shape-scientific-research-in-the-next-century/
10/25/17 - IBM Researchers publish article in PLOS ONE about MELD-Plus - A generalizable risk score for cirrhosis:
https://www.ibm.com/blogs/research/2017/10/machine-learning-meld/
Keynote: IEEE ICHI 2017 - 8/23-26/2017, Park City, Utah
Keynote: Computational Methods for Next Generation Health Care
Presenter: Jianying Hu
Keynote: 7th Digital Health Conference 2017 - 7/2-5/2017, London England
Keynote: Health Innovation – An IBM Perspective
Presenter: Ching-Hua Chen
4/7/17 - IBM grantedU.S. Patent 9,536,194: Method and system for exploring the associations between drug side-effects and therapeutic indications.IBM press release:http://www-03.ibm.com/press/us/en/pressrelease/52017.wss
 Blog Post: https://www.ibm.com/blogs/research/2017/04/machine-learning-models-drug-discovery/
 Video: https://www.youtube.com/watch?v=e3USliqAC9Q&feature=youtu.bePress: http://healthitanalytics.com/news/ibm-patents-machine-learning-model-for-pharmaceutical-discoveryhttps://finance.yahoo.com/news/ibm-patents-machine-learning-models-130000644.html
Articles of interest related to CHF prediction work recently published in Circulation: Cardiovascular Quality and Outcomes:IEEE Spectrum Article:http://spectrum.ieee.org/the-human-os/biomedical/diagnostics/ibm-intel-stanford-bet-on-ai-to-speed-up-disease-diagnosis-and-drug-discoveryBlog Post:https://www.ibm.com/blogs/research/2017/04/using-ai-to-predict-heart-failure/