<! -- ========================== GROUP NAME ========================== ->
links
<! -- ========================== GROUP PEOPLE ========================== -> <! -- ========================== GROUP PAGES/TABS ========================== ->
Client Experience JAM - overview
<! -- ========================== PAGE CONTENT ========================== ->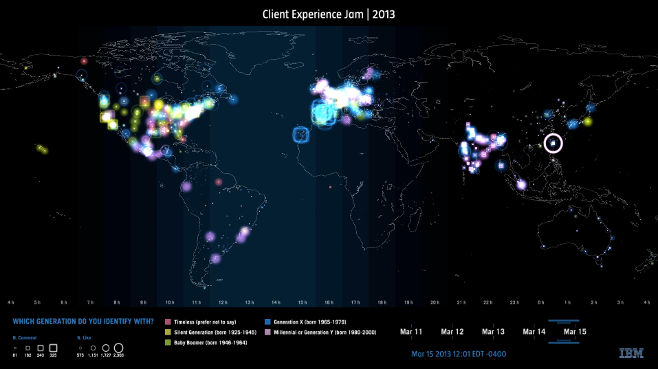 Abstract
The value of a resource depends on how it is used. Just as silicon was only sand until someone figured out how to turn it into microprocessors, the data produced from the Client Experience JAM is just information until we do something with it. So, how valuable can we make all the data produced during the four days of our record-breaking Client Experience Jam?

Well, here is what that data looks like. Almost 128,000 comments on how to better serve our clients from more than 248,000 participants. The data can be broken down and studied by the line of business, country, function or even the number of years with IBM of the colleague who posted the comment.

In this data visualization video we beautifully portray how truly massive and representative our Client Experience JAM was as a global event.
Video Demonstration