<! -- ========================== GROUP NAME ========================== ->
links
<! -- ========================== GROUP PEOPLE ========================== -> <! -- ========================== GROUP PAGES/TABS ========================== ->
City Labs Workshop - SocInfo 2014 - overview
<! -- ========================== PAGE CONTENT ========================== ->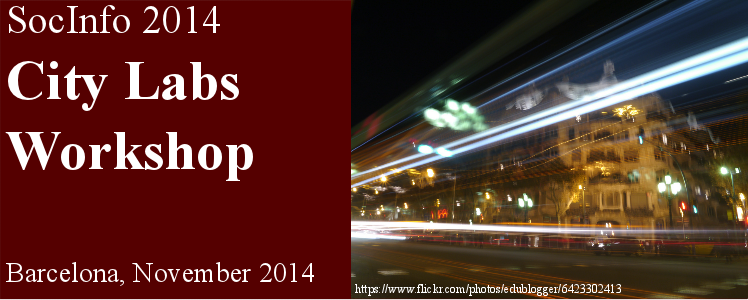 Background and Motivation
Social media and digital traces from sensor such as smartcards and mobile phones have played a key role in providing insights into people's activities, opinions and day-to-day lives. These detailed user-generated information streams offer a unique opportunity for cities to understand and engage their citizens. The research domain of smarter cities aims to monitor disruptive events (e.g., emergencies, Olympics), analyze social behaviour, identify citizens' sentiment and understand their interactions with services. On the other side, cities can use their understanding of the citizen to foster stronger relationships with the diverse communities in their constituencies. This understanding could be applied to mobilize people on important issues such as education, health care, political engagement and community awareness. Also, new digital fabrication tools have been recently used to generate adoptable, dynamic and interactive architecture able to evolve together with urban dwellers, and it has been shown that new Internet-of-Things devices could effectively capture physical observations to understand how cities and urban centers work. As a result, cities now provide a living lab where applied research can be carried out to understand citizen and services with a focus on collaborative, user-centred design and co-creation.
This workshop aims to bring together researchers and practitioners to discuss and explore the research challenges and opportunities in applying the pervasive and social computing paradigm to understand cities. We are seeking multidisciplinary contributions that reveal interesting aspects about urban life and exploit the digital traces to create novel citizencentric applications that benefit not only citizens, but also urban planners and policy makers. We believe this topic will attract researchers from communities ranging for computational science, to social science and urban design.
Participating
Workshop only registrations are available for only 20 euro on the SocInfo website. We are also organising an UrbanBeers meetup following the workshop on Sharing Cities. We look forward to seeing you there.
Guest Speaker
We are delighted to announce Tomas Diez as a keynote speaker
Important Dates
Paper submission:Sept 22nd, 2014
Notification of acceptance: Oct 1st, 2014
Camera-ready due: Oct 3th, 2014
Workshop: Nov 10th, 2014
More Information